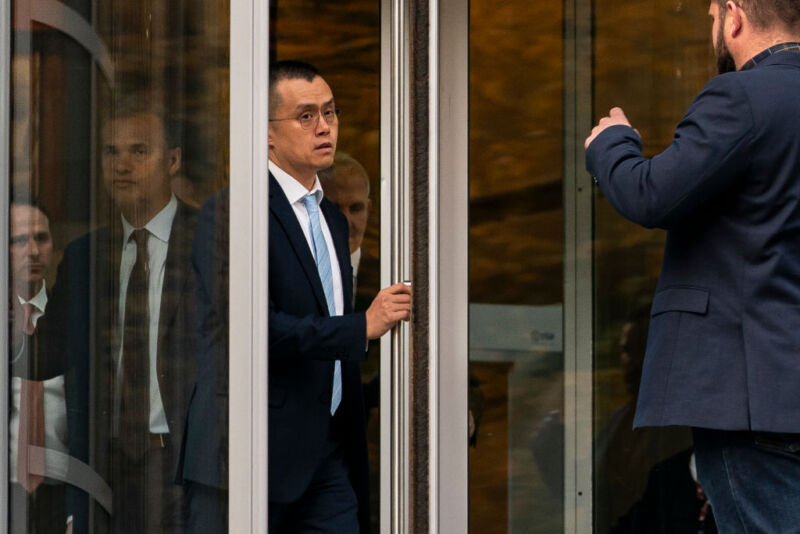 Binance founder Changpeng Zhao has resigned as CEO of the world's largest cryptocurrency exchange after agreeing to plead guilty to money laundering violations, the US Department of Justice announced on Tuesday.
The DOJ's settlement concludes a three-year investigation into Binance that found "willful failures allowed money to flow to terrorists, cybercriminals, and child abusers through its platform," Secretary of the Treasury Janet Yellen wrote in a statement. According to the plea agreement, Zhao will pay a $50 million fine, and Binance—which also pled guilty to conspiring to operate an unlicensed money-transmitting business and violating sanctions against Iran, Cuba, and Syria—will pay a $4.3 billion fine.
"Today's historic penalties and monitorship to ensure compliance with US law and regulations mark a milestone for the virtual currency industry," Yellen said. "Any institution, wherever located, that wants to reap the benefits of the US financial system must also play by the rules that keep us all safe from terrorists, foreign adversaries, and crime or face the consequences."
Zhao will also be temporarily barred from working at Binance. According to the plea deal, regulators will appoint an independent compliance monitor to ensure transparency in Binance's operations for three years. Zhao cannot be involved with Binance until after that appointment ends.
In June, the Securities and Exchange Commission charged Binance with various securities law violations, alleging that Zhao and Binance secretly allowed "high-value US customers to continue trading on the Binance.com platform" violating laws restricting US customers from using its platform. The DOJ said that Zhao personally directed employees to hide these transactions to avoid regulatory oversight.
Binance revenue reportedly fell in 2023 until the collapse of FTX gave the crypto exchange a "big boost," Fortune reported. But now the hefty fine at the heart of Binance's plea deal has put another big dent in the platform's finances.
US Attorney General Merrick Garland celebrated Zhao's and Binance's plea deals, noting that they quickly followed the conviction of FTX co-founder Sam Bankman-Fried on fraud, money laundering, and conspiracy charges earlier this month.
"Binance became the world's largest cryptocurrency exchange in part because of the crimes it committed—now it is paying one of the largest corporate penalties in US history," Garland said. "In just the past month, the Justice Department has successfully prosecuted the CEOs of two of the world's largest cryptocurrency exchanges in two separate criminal cases.  The message here should be clear: using new technology to break the law does not make you a disruptor, it makes you a criminal."
Zhao, whom Forbes designated as the wealthiest man in crypto in 2022, held what sources told Forbes was a considerable stake in Binance—"at least 70 percent." He raised $15 million to launch Binance in 2017, and by mid-2022, his exchange had an estimated market value of $92.5 billion.
Last month, The Economist dubbed Zhao "crypto's last man standing." On X, Zhao posted a statement explaining how hard it was to let the crypto exchange go.
"Today, I stepped down as CEO of Binance. Admittedly, it was not easy to let go emotionally," Zhao wrote. "But I know it is the right thing to do. I made mistakes, and I must take responsibility. This is best for our community, for Binance, and for myself."
According to Zhao, Binance's former Global Head of Regional Markets, Richard Teng, is now Binance's CEO.
"Richard is a highly qualified leader and, with over three decades of financial services and regulatory experience, he will navigate the company through its next period of growth," Zhao wrote. "He will ensure Binance delivers on our next phase of security, transparency, compliance, and growth."
Teng will have to "cooperate fully with the government in any and all matters relating to the conduct" described in Binance's plea agreement, "as well as any other conduct under investigation by the government at any time" in the three years after the monitor is appointed. Once those three years pass, the CEO will be expected to "certify that Binance has met its disclosure obligations"—including the obligation to inform US officials "promptly about any evidence or allegation of money laundering, compliance, and sanctions-related misconduct, as well as other criminal violations of federal law."
Zhao said that he will take a break but will remain available to consult with the Binance team—"consistent with the framework set out in our US agency resolutions"—"as a shareholder and former CEO with historical knowledge of our company."
At times, his post took upbeat turns, including claiming some wins for Binance from the settlement. Zhao said he was "proud to point out" that the plea deals "do not allege that Binance misappropriated any user funds" or "that Binance engaged in any market manipulation."
Zhao said that he was unlikely to become a CEO driving a startup ever again but expected that Binance would thrive without him.
"Binance is no longer a baby," Zhao wrote. "It is time for me to let it walk and run. I know Binance will continue to grow and excel with the deep bench it has."